[F]orgetting is memory's foe. Memory is sacred and forgetting is something to overcome. Memory is revered and forgetting is disparaged

Eichhorn, K. (2019). The end of forgetting: Growing up with social media.
---
(forgiv/getness)
I have been doing a lot of reading around the right to be forgotten. It keeps coming back to me, the more I read and talk about it, that there is a need for a new word to describe the act or process of forgetting as a positive phenomenon.
Currently, we have the following (all from OED):
Forget (v)
To lose remembrance of; to cease to retain in one's memory
To fail to recall to mind; not to recollect
To omit or neglect through inadvertence.
To omit to take, leave behind inadvertently.
To omit to mention, leave unnoticed, pass over inadvertently
To cease or omit to think of, let slip out of the mind, leave out of sight, take no note of.
To drop the practice of (a duty, virtue, etc.); to lose the use of (one's senses) To neglect wilfully, take no thought of, disregard, overlook, slight
To neglect wilfully, take no thought of, disregard, overlook, slight
To omit care for oneself
To lose remembrance of one's own station, position, or character; to lose sight of the requirements of dignity, propriety, or decorum; to behave unbecomingly
To lose one's way. To lose consciousness
Most of the usages occur within a negative context, alongside loss, failure, inadvertent action, and omission.
In addition, we have the following non-verbal usages:
Forgetful (adj)
Apt, inclined, or liable to forget; having a bad memory.
Heedless, neglectful.
Forgetfulness (n)
The quality of being apt to forget, the state of forgetting.
The condition of forgetting or losing recollection of everything.
Disregard, inattention, neglect.
It seems that the positive aspects of forgetting * do not come to light with these usages. As a result, I am proposing that the use of the term "forgetness" to be used in this context.
The OED already lists the rare usage of forgetness to mean forgetfulness.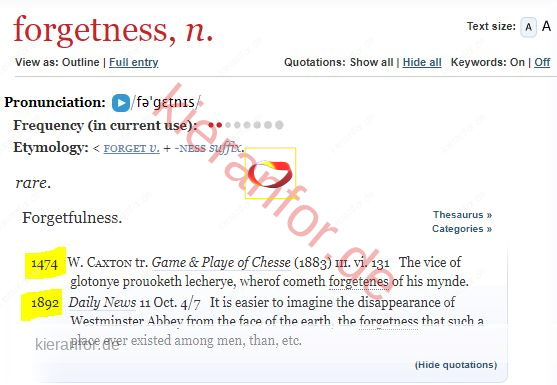 As this usage is rare, and there appears to be a need for a term to describe reparative and beneficial forgetting, I propose to recycle and repurpose the word for use in my research.
---
* I will add more here in the positive aspects of forgetting. For now, I leave you with Nietzche on that topic. You'll note that he uses "forgetfulness" where, to me at least, it seems the use of "forgetness" might serve well to underline the positive connotation.
To shut the doors and windows of consciousness for a while; not to be bothered by the noise and battle with which our underworld of serviceable organs work with and against each other; a little peace, a little tabula rasa of consciousness to make room for something new, above all for the nobler functions and functionaries, for ruling, predicting, pre-determining (our organism runs along oligarchic lines, you see)-that, as I said, is the benefit of active forgetfulness, like a doorkeeper or guardian of mental order, rest and etiquette: from which we can immediately see how there could be no happiness, cheerfulness, hope, pride, immediacy, without forgetfulness.

On the Genealogy of Morality, Friedrich Nietzsche
---
Forgetting allows us to limit and so to cope with our possibilities amid the flow of time. It is, as Nietzsche writes, "the art and strength of being able to…enclose oneself in a limited horizon." As an antidote to the excess of history, which shatters our horizon by exposing us to the arbitrariness of becoming, forgetting permits us to craft a perspective: an orientation to time that, in taking a stand against the onslaught of the past and future, allows us to meaningfully inhabit the world. This is not the absolute forgetting of cattle shackled to a moment without past or future. It is, to be clear, an active forgetting crafted through, and for the sake of, something most significantly human: temporality. Forgetting is thus an art that we must learn to cultivate if we are to live well with history and so carve, as it were, a manner of bearing time.

Di Paolantonio (2018). Remembering, Forgetting, and Learning Amidst a Time of Extraordinary Rendition
---
The protection of personal data has not only evolved, it seems that it has become a central focus in our hyperconnected world. Decades of conceptual thinking, legislative entrepreneurship and continuous tinkering finally paid off. We may not yet have arrived at privacy nirvana, but we surely seem to have a comprehensive regulatory framework in place.

ViktorMayer-Schönberger
---
The majority of people in modern societies must be convinced to re-cultivate a demand for the right to forget: they must learn how to recognize and use this right. To achieve this, however, a new generation must come forward, whose members attach importance to their personal autonomy while still retaining a strong demand for critical thinking; whose desire for comfort does not necessarily take precedence over their yearning for freedom; and who can still remember how to forget.

Ivan Szekely
---
(Feb 15, 2021) A Case Against the Peeping Tom Theory of Privacy https://www.wired.com/story/against-peeping-tom-theory-of-privacy/
"Privacy is the wrong word for privacy."

Alastair Mactaggart; founder of Californians for Consumer Privacy
---